In their basic form, bush chains are simply a roller chain without any rollers fitted

.

By removing the roller, the inside width of a bush chain can be greatly increased, therefore increasing the chains stability under tension. Bush chains are generally covered under DIN 8164.

One of the most common applications for bush chain is for use in Bucket Elevators. The vertical design of these elevators makes rollers redundant. Not only can a wider chain be used to increase the vertical stability and reduce bearing pressure, but the removal of the rollers helps reduce the overall weight therefore reducing drive energy requirements. 
Another common area of application for bush chains is in the wood processing industry. Fine wood particles can mix with lubricants to clog the rollers and cause 'flat spots'. As logging and wood processing conveyors run at low speeds, they do not experience rapid wear of the conveyor guide rails, from the rubbing of the link plates. 
One of the specialist applications for steel bush chain is in the theme park industry, where steel bush conveyor chains are used to pull roller coasters and water rides. These structurally critical but rapid wear applications use a steel bush chain, over a roller chain, due to the environments in which they run (either outside or in and out of water). These environmental conditions corrode the chains, often seizing the rollers and causing roller flat spots. Many rides also use the steel bush itself as a mounting point for the carriages that the chains convey, something which would not be advisable on a roller chain. 
For high load, slow moving conveyors, chains can be fitted with a small/shell roller which stays within the link plate boundaries. This addition allows the roller to roll over the tooth face on the sprocket, reducing the wear rates of both the sprockets and chain.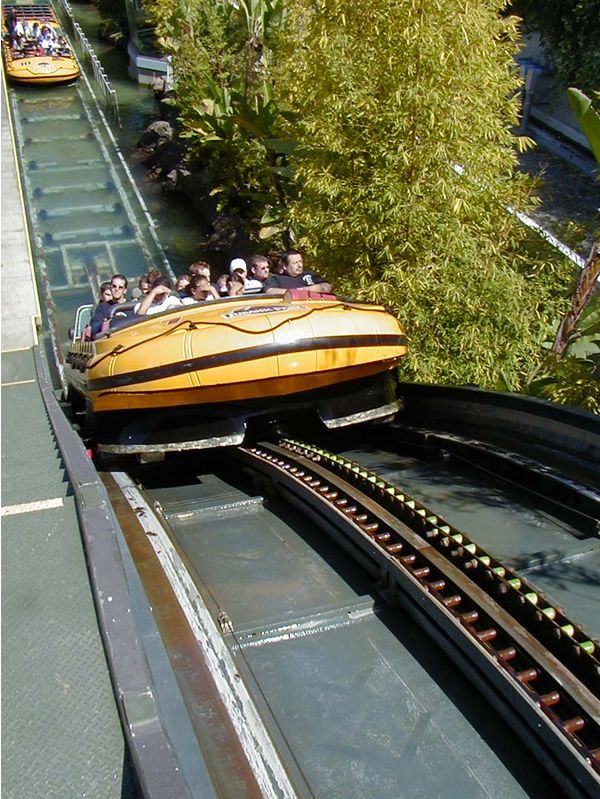 Non Standard Options
Non Standard Pitches
Bush Only Chains
Special Pins
Surface Coatings (Zinc, Nickel, Sherardized etc)
Non Standard Links
Drilled Links
Cleaning Flights and Cups
Stainless Steel (Standard 300 series or 400 series hardened round parts
Non Standard Round Parts (V Rollers, special sizes, through pin lubrication etc)
Non Standard Attachments
All types of sprockets & rings to suit
Other Options Upon Request
Steel Bush Conveyor Chain Specifications